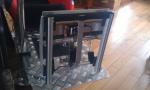 I inverted my pedals and mounted them on a rexroth goal post frame. I showed this view to illustrate the reinforcement flat bar I formed out of stainless steel. They are rock solid and give great feedback. I had to remove the spacer blocks to get them to the right height.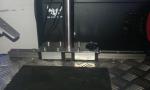 I mounted my steering column on a linear track to make it adjustable between me and the boy. Spreading the mount across two bearing slides gives it great ridgidity.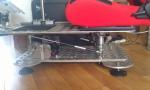 I fitted some gas struts to give the motors a little boost and provide damping. I chose to anchor them at the motor linkage point but this might change.