Hi @ all!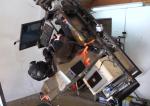 first things first: Thanks for the help here in the forum especially Sirnoname and leonpro!
Also to Bergison for some great Idears!
Thanks to the Motion Cancelling Tool "OpenVR Input" from Maxman666,
VR tracking and alignment works like a charme with the HTC Vive , VivePro, and Valve Index.
Now the Pit works with 80kg load, rollrate 220°/sec and Virtual Reality!
Sorry for long winded videos.
Carrier launch and some Aerobatics with VR in DCS World:
https://youtu.be/bPhuUdkOJoU
Some little dogfight:
https://www.youtube.com/watch?v=QI70pLFY7gQ&t=24s
Customer riding the Simulator (funny screams):
https://drive.google.com/open?id=1EuEQI ... mr8iqRAGF3
Load Test@max. rates:
https://drive.google.com/open?id=1s9Ooq ... ivdavmAdEm
And here old vid with only one Axis 360°:
NOP first time with VR Headset (Visitor flight via Track Replay)
https://drive.google.com/open?id=0B2LQi ... lZlU1pkQkE
Aerobatics Fun (Motion Controller works now quit fast and precise)
https://adobe.ly/2Mthm4P
Airrace firsttime max. roll rate.
https://drive.google.com/open?id=0B2LQi ... TNiX25fVWM
Nevada NOP first 360° but huge delay, not precise.
https://drive.google.com/open?id=0B2LQi ... WdkanZhZ0k
Pitch Axis works now
https://adobe.ly/2IvvvMG
First Vid of Belt-tension System (WIP)
https://drive.google.com/open?id=1EjWV2 ... 04WvdRZoSp
I'm flying in DCS World mostly together with a Virtual Wing (vJaBoG32).
Background: Why 360° Motion Sim?
It may look like but this Monster is not a funny roller coaster

The main goal is to reach a perfect Situation Awarness (SA) for mill. Missions.
E.g. if you are doing Bombruns, Night OPs, Dogfights or Aerobatics it´s very easy to get disorientated.
In a real Airplane you have many little helps to stay orientated (and sometime to get disorientated also)
In a PC-Simulation you don´t have these helps, but i want to have them!
And this is the reason for 360° 3DOF - you simply feel you´re flying inverted - even if you are in fog hole!
However this is not realistic...in a real Fighterjet you mostly have positive Gs (heave or Z Axis).
Everythings else like Yaw, Sway, Surge forces are tiny effects in relation to the huge positive Gs (assumed your are doing millitary or aerobatic flights).
Since nearly no one can simulate constant Heave, I go for the 360° option.
Thougt i was very surprised how realistic the 3DOF feels - in VR a constant pitch Up feels like +2.5G and a sudden pitch down almost feels like Zero G.
But a 70° to 120° Rollangle (levelflight) dosn´t feel realistic at all , cause it feels like a 1G sideslip.
Therefor i builded a seatbelt fastener to simulate heave (constant G pos).
And this works very good! Although only the belt buckle is tightened by a cable, the pressure is distributed very cleanly on shoulders, chest, thighs and pelvis.
You can hardly feel that in reality a pull in the middle is the source of the Gs.
Each G is clearly noticeable. At max. Gs i almost lose the air, although the objective pressure on the body is only a fraction of the real Gs.
In a 4G loop there is enough pressure (on the butt) to provide the feeling of positive Gs.
But why not a 6DOF MotionSim?
Even a Stewart hexa can´t do constant rolls, loops, Pitch Ups, invert, or just stay in the correct bank angle.
Particularly with VR you feel every false Degree between Real Life Angles and InGame Angles.
OnSet cuing dosn´t work good for me and brakes immersion and SA to me at least.
However i use the Pitch and Roll Axis to simulate certain g-forces like slip and horizontal velocity.
Example:
On a Carrier Launch the Jetpilot feels +0.9 G velocity. I can simulate this 1:1 via pitch up with ~80°.
Same thing with Carrier Landings: 2.6G decelerate...ok i can only simulate -1G deceleration with pitch down 90°.
Both things a scary and exhausting even with just 1G!
And this is maybe the most important part why 360°
It is scary like RL flying! My first real life loop scared me in the same way this simulator did !
Not to mention how scary LowLevel Flight suddenly becomes - same like real even if Gs are far away!
But having a blast when going vertical and doing a Split-S? You bet!
Actually I do (or do not) make the same mistakes both in the simulator and real life, so this biest is a great teacher to me.
But in the End of the Day it is exhausting - this simulator gives you a small clue what real fighterpilots must accomplish.
With motion On i will never win a MP Dogfight again

!
So this is nothing i you could ever get with 6DOF hexa sim...even a flight in a Level D motion simulator with very steep maneuvers couldn't convince me.
Also pure VR is not enough, because VR is only optically like reality.
But the Airplane movements, position and G-force causing all the thrille and panic and immersion - not the view.
This is also confirmed by the Sim-guests:
As soon as turbulences, shear winds, steep roll- / pitch angles or stalls appear, even experienced VR Pilots are completely
surprised and scared while experience this in my motion cockpit!
Some Datas:
The Pit-Basket (Rollaxis: weight: 160kg + 100kg me), Pitch Axis (90kg) and Mainframe (120kg).
Material is steel 40x40x4mm, Round tube 140mm/4mm. Size is now 240cm x 220x 250cm
No Chance to do this width Polulu JRK.
Some shooping list:
- 3x Arduino Uno R3
https://store.arduino.cc/arduino-uno-rev3
- 2x Hallsensor (Poti 360° endless)
https://www.megatron.de/produkte/weiter ... ab25a.html
- 2x Sabertooth 2x60 + 1x Sabertooth 2x15
https://www.dimensionengineering.com/pr ... rtooth2x60
- 4x cheap 12V / 35AH Car Batterie in parallel for 2x 24V Power source + 2x 12V 2AH for Belt Tension
- 1x 24V 350W 300rpm DC Brushed DC Motor for the Belt-Tension System
https://www.ebay.de/itm/DC-Getriebemoto ... 1438.l2649
Roll Axis:
https://www.transtecno.com/en-en/gearbo ... otor-ecmb/
1x Gearbox ECMG 600/02 2 U 29.93 D25 240 T1
1x Actuator: EC 600.240 800WS2 3000rpm 24V 71 B14 (strongest available)
Actuator input flange: 71B14
Rated 60A and 120Nm (peak ~ 250Nm) with max. 65 RPM under load. 24V DC / 800W rated (peak ~2400W)
Pitch Axis:
https://www.transtecno.com/en-en/gearbo ... tors-ecmg/
1x Gearbox CMB 633 U 47.16 D25 71 B14 M1
1x Actuator: EC 600.240 800WS2 3000rpm 24V 71 B14 (strongest available)
Actuator input flange: 71B14
Attention! I connected the Gearbox with a chain drive to the Pitchaxis, ratio 1:2 (so halfes rpm)
For order contact:
giulia.tugnoli@intecno-srl.com
.......
You have to run a (small) business or they won´t deliver.
Attention!
Actuators may not fit for your sim. Much depending on centre of gravity, Power source, H-Bridge, Basketweight, Pilots weight, Chains and so on.
You have to calculate the needed Nm for each axis. Then look at the tables from transtecno and look for this Nm value.
Now you know ratio and the rpm with load. If rpm is to low, just choose gearbox with higher rpm (max. +20%).
This will work because the DC Actuators can be overdriven by 100% PWR. However the gearbox will suffer a little bit.
Don´t choose wormgear drives! They are selflooking. This will cause stutters, jitters and finally break the drive shaft.
Turnrates:
A rated 800W DC Brushed Accurator is enough for Flight Simulation, cause you can squeeze out 2600W peak without damage.
You will get accelerations up 200°/sec with a 100kg heavy Pit + 90kg Pilot.
A real strong gearbox with the correct ratio (75 rpm with 250Nm are perfect) is important to get this values and to stand the stress e.g. full stops or hard dogfights!
More Power is not possible due the H-Bridge. Even the Saabertooth can not pull more the 90A @24V for a sec. So i can´t feed more PWR to the Actuator.
Another important thing is centre of gravity. All my Axis are near perfect balanced (on my weight), which was...let´s say just luck

This makes the hole system very responsive, fine and saves a lot of energy!
Runtime:
I can fly for 10h continuously with 4x 35ah Batteries.
When you are unable to mechanical balance your Axis, i would even recommend to add weight to sort this out!
This makes everything so much easier with the PID Controller.
Some Frame specs:
Pitch Axis shaft drive: d=80mm ; t=10mm; l=1200mm
Roll Axis shaft drive: d=60mm ; t=20mm; l= 300mm
Gears- and Accurators shaft drive: d=25mm (minimum!)
Pitch Axis frame round tube: d=140mm ; t=4mm (minimum!)
Main- and Roll Axis frame L-Profil: 40mm x 40mm x 4mm (better would be 30x30x4mm square profil!)
I use a big double chain for the Pitch axis. It is much easyer to assamble and to get the perfect gear ratio.
Also it is safer, sturdy and your gear box has less stress. The little more weight dosn´t really matter.
For the roll axis i use a direct drive axis through the gearbos. This reduce weight, latency, adds stiffnes, but ratio can´t be changed.
The Pitch axis has a one side bearing (U-Frame). This reduce roomspace but adds much weight and is not easy to build...ok and it looks just better *g.
Signal Concept / Game Value Export:
Thanks to leonpro who made the DCS profile for x-sim
The data extracting and input setup working very fine!
As far as i know THIS is the ONLY Solution that works at the moment!*
I tryed the other simulation software, but they don´t support 360°, at least not with H-Bridges.
Also BFF Simulation doas not support.
However this is not a perfect solution:
- X-Sim PID Controller is somehow buggy and very difficult to setup
- There are small runaways, stutters and delays in some flight conditions
*UPDATE: I just installed the Sabertooth 2x60 with the Kangaroo Motion Driver in my testdrive:
https://www.dimensionengineering.com/products/kangaroo
and it looks like this works with 360°
BUT
only using a high-res incremental sensor
(realtive tracking - no absolute angle sensor, min. 8000 steps per round). Also a Z (or I) Impulse is needed for alignment.
If this works all issues with PID, stutters would be gone!
From DCS via export.lua to Import-Plugin:
http://www.x-sim.de/forum/viewtopic.php?f=79&t=309
From there to X-SIM Math / USO Setup.
Then installing Sirnonames XPID Firmeware for Arduino Uno / Sabertooth:
http://www.x-sim.de/forum/viewtopic.php?f=39&t=723
From Arduino to h-Bridge Sabertooth 2x60 and
to DC brushed Motor.
Feedback via Hallsensor:
http://www.megatron.de/produkte/hall-ef ... ab25a.html
I use this values to get the Bank rate out of DCS:
local pitch, bank, yaw = LoGetADIPitchBankYaw()
local vel = LoGetVerticalVelocity()
Stearing:
You will need a real good Flighstick to enjoy the motion. So my Warthog Thrustmaster is extended (35cm) and is now damped by adjustable motorcycle handlebar dampers...very nice feeling, soft as butter and still a lot of resistance, much closer to reality, ideal for rotorheads, I can only recommend (thx to Bergison for the ingenious idea). With a strong damper setting you also have a trim system!
However, there is almost no Centerforce anymore because the dampers are much strong then the nativ Warthog Springs. Therefore you may add Springs on both sides of the dampers to gain centerforce again (picture comes soon).
Important Funstuff:
IBEAM Bodyshaker + Subwoofer + Surround Sound System. Very important for the immersion e.g. Gau8, TouchDown, Stalls/Buffets.
Headsets, even the best, won´t work because you need huge amplitudes to get realistic kicks and vibrations. But a Headset is still important for radio com.
Air Condition: I use a cheap own from China with 3000W heating and 180W cooling. This is enough to simulate some climate (e.g. Startup in Nevada or High Altitude Flight in a P-51). However the Air condition is manually remote controlled, maybe some day i read out DCS Temperature to get proper control

VR with Motion
Basically all VR glasses track absolute. I.e. if your plane rolls with 45°, then the 45° real cockpit angles add up with the 45° angles of the InGame View.
So optical it looks as if you are flying at a 90° angle. This leads to motion sickness instant. But there is a solution called motion cancelling:
https://github.com/matzman666/OpenVR-InputEmulator
This App simply subtract the e.g. 45° RL angle again. Motion cancelling works only with the HTC Vive and Valve Index (NOT with Pimax at the moment).
For a perfect 2x 360° tracking you need 3 Lighthouse Stations (type 2). When little blackouts are ok, while doing a loop or roll, you can go with two Lighthouse Stations (type 1 or 2).
Pitch Problem:
If you pitch up the Aircraft in DCS for 90° the Bankaxis flips suddenly to 180° and afterwards the Pitch Axis is inverted.
This is the same behavior as the artificial horizont instrument in the aircraft doas.
Heads UP Pilots!
With this Export.lua for DCS World you can counter this Effekt!
https://drive.google.com/open?id=1Z7dsO ... EkotDJPCys
You can make forward / backward / inverted loops as you like,
For example, you can cancel the climb at 80° PitchUp,
You can even roll a bit at 90° pitch,
You can go up to 4 degrees off the track through the vertical.
If you don´t hit vertical the "normal" Bankflip occours and Pitch will decrease as "normal".
Some rare miss behaviors and small stutters are still a issue, but you know...
Have Fun!
Safety and security
With 360°, 200kg Basket and 230V AC even small mistakes can end deadly.
- So include a separate, super sensitive FI switch directly in front of the rotary grinder between the main power line.
I have not experienced any unwanted offs or voltage fluctuations so far.
At this time i try to supply my PC with a 12VDC
https://www.minipc.de/de/catalog/il/919
So if this works i don´t need the deadly 230V AC!
- Use ONLY tested rotary unions that are really designed for 230V (up to 700V peak)!
An extremely fast fuse + FI switch is important.
- Emergency stop switch: To switch off the 24V current I built a power relay between the actuator and the battery. From the pit a 12V control signal goes over two signal lines to the relays. If the control signal is cut by the stop switch, the power relays disconnect the 24V load current.
- Roll bar and basket: Worst case would be if an axle, bearing or drive mount breaks while your flying invertet. So install a stable basket which protects your head from any impact!
- Heavy duty anchor: I have installed 12 of them in the floor and walls to keep the Simulator in place.
- Emergency brake system: Via wireless con. and a self-sufficient battery I control two 25mm bolts on a linear motor, which drill into the walls
and frames. This stops any movement. Why wireless? How do you want to release the brake if the axle or signal cable tears apart?
- Helmet, 5 point seat-belt and alarm button are mandatory. Installing HTC Vive or Index in a pilot's helmet works just as well!
Installed in a Helmet you do not have to worry about a slipping VR Headset while going invertet.
- Emergency lighting is really good in case of AC Power loose.
- Don't use more then max. 3kW actuator. Or at least make very sure that the motor don't get more power then 3000W peak. Why?
2000W brake your bones, but you will survive likely. But at 5000W everthing is just ripped apart instantly.