Hi everybody!
I am trying to build myself a G-seat for my flight-simulator pit: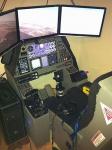 The goal is to have two moving flaps under the seat (G-load), two in the back (G-load and forward accelleration), as well as a seat-belt tensioning device for the shoulder harness (decelleration) and for the waist strap (negative G-force).
After much appreciated help and hints from vicpopo, yokoyoko and RacingMat in the "new users" forum [
http://x-sim.de/forum/viewtopic.php?f=3&t=1267
], I have now gathered all needed parts and moved the thread over here.