Hi together
I think I got my first PC Racing Wheel more than 10 years ago, and since then I'm always trying to improve the immersion while racing.
So finally some years ago I then got myself a Playseat Evolution, which was quite good, but I still had some problems with it.
First of all the wheel-stand was always in my way between my knees and I also never really managed to adjust all parts to the size of my body so that it felt right.
So now after moving to a new house where I have enough space, I decided to completely build my own simulator. And while searching through the net for some design ideas, I suddenly came to this site, and thought: Ok, so let's make it a motion simulator.
And of course I want to share my experience here with you.
The base is highly inspired by the plans of the Ricmotech RS1, adapted to my needs, and powered by two 12V wiper motors: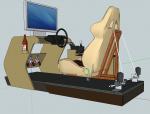 I finished now the planing, and collected all the parts, that I think I will need, which are:
- 2 Wiper Motors
- 2 Pololu JRK 12v12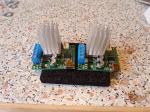 - 2 10k Pots
- an used 1000W HP Server Power-Supply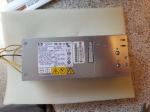 - Universal Joint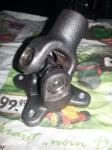 - Aluminium parts for building Motor arms and fixing the motors to the platform.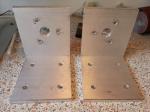 - rods, ball joints, screws and other usual hardware parts.
- wood for building the base platform
- two bass shakers + amplifier - one will be placed under the seat, and one in front to the pedal base.
- As input I will use my good old G25 with reverse mounted pedals
- For the start I will use the seat of the playseat. I plan to buy a new one soon, but have not decided which one it will be.
So until now, I have built the rear part of the base unit and mounted the motors and pots to it, to make a first test run with the motors. On an AI run of GTR2 the motion already looks quite promising. (Pixs will follow)
The next step will be to build the base for the seat, mount it to the platform and see how it's moving. After that I can make the final measurement for the front part (wheel and pedal base) to perfectly fit my body.
So that's it for now, but more to come soon...hopefully
Update 15.07.2013
I managed to get the motors isolated (thanks Mat for your links) and mounted them again to the platform. Had to change the position, as at first they were to wide.
Meanwhile started to build the front unit:
I also built the seat base, an mounted it for some tests, but I'm not fully confident at the moment. The cuttings are not as precise, as I want them (my fault), and over all I'm afraid it's too heavy, so I'm thinking of maybe changing to aluminium for this part as well.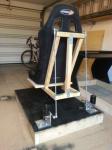 I also realized, that at the moment the whole seat construction is too high, so I have to shorten the U-Joint mount.
But as I decided to go for a new seat, which will hopefully arrive within the next days, I'll wait for it to get the correct measurements.
And then it's time for the first test-run.