I've simply cut the wood (18mm birch plywood) with a hacksaw and did the rounded edges with a roundover bit in my (handheld) router.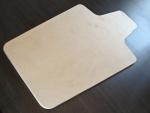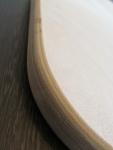 The painting is Warnex, which is special structure paint mainly used for PA Speakers.
It requires no base coat (only one coat with a standard paint roller and a second one with a structure paint roller) and gives a very nice result.